By the way, we are throwing a party: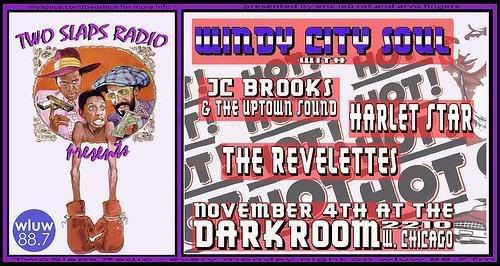 Eric Lab Rat:
Gnarls Barkley - Boogie Monster
Chicago Afrobeat Project - Superstar Pt. 7
Bobby 'Boris' Pickett - Monster Mash
L. Hollis & the Mackadoos - Bui Bui
Funkadelic - Maggot Brain
Arvo:
Jumpin' Gene Simmmons - Haunted House
Screamin' Jay Hawkins - I put a spell on you
The Poppy Family - Where Evil Grows
Fabienne Delsol - I'm Gonna Haunt You
Gloria Jones - Tainted Love
Lavern Baker - Voodoo Voodoo
Charles Sheffield - It's Your Voodoo Workin'

Johnny Otis Show - Castin' My Spell
The Beattle-ettes - Seventeen
Louis Farrakahn - Zombie Jamboree
The Bootles - I'll let you hold my hand
The FAbulous Brothers - Run For Cover (Dells)

Eric Lab Rat:
Shirley Bassey - Light My Fire
Dave and Ansil Collins - Double Barrell
Soul Unlimited - Raving Vampire, Pt. 1
Kermit Ruffins - Drop Me Off In New Orleans
Marie Queen Lions - Fever
JC Brooks and the Uptown Sound - Baltimore is the New Brooklyn
The Rebirth Brass Band - I Feel Like Funkin It Up
Arvo:
The Fresh Prince and Dj Jazzy Jeff - Nightmare on My Street
The Fat Boys - Are YOu Ready For Freddy?
Dawn Silva And The Brides of Funkenstein - Whole Lotta Game
Ruth Copeland & Funkadelic - Gimme Shelter
The What Four - I'm Gonna Destroy That Boy
The Arvo Fingers Delirious Insomniac FreeForm Radio Show:
Haunted George - Graves In The Desert
Ghoultown - Killer in Texas
The Ghastly Ones - Ghastly Stomp
Moontrekkers - Night of The Vampire
Screaming Lord Sutch - Dracula's Daughter
Lambert, Hendricks And Ross - Halloween Spooks
Groovie Goolies (from 70's cartoon) - When I Grow Up

Groovie Goolies (from 70's cartoon) - 123
Sheb Wooley - Purple People Eater
Cab Calloway - Viper's Drag
The Five Blobs - The Blob
Jack MAlmsten - Satan Takes a Holiday
Gene Moss and The Monsters - I Want To Bite Your Hand
Gene Moss and The Monsters - Drac The Knife
Gene Moss And The Monsters - Little Black Bag
Screaming Lord Sutch - Jack The Ripper
Eddie Munster - I Wish Everyone Was Born This Way
Link Wray and His Ray Men - Jack The Ripper
The Theremin Orchestra - Scary Sound Effects
Frankie Stein and His Ghouls - Swinging Head
Frankie Stein and His Ghouls - Saturday Evening Ghost
Frankie Stein and His Ghouls - Be Careful, It's My Throat
Milton Delugg - Ghost Meets Ghoul
Milton Delugg - Creature From Under The Sea
Milton Delugg - The Addams Family
Milton Delugg - The Munsters
Disney Song from the Haunted Mansion - Grim Grinnin Ghosts
Ennio Morricone - Magic And Ecstacy (From The Exorcist II)
Ennio Morricone - Humanity Pt 1 & 2 (from The Thing Soundtrack)
Professor Armchair - Funeral March of a Marionette
The Gravetones - Devil's Rain
Roky Erickson - If You have Ghosts
45 Grave - Evil
Alice Cooper - Feed My Frankenstein
The Cramps - Early 80's youtube footage of live Bay Area Halloween Show with 2 Covers
Electronic Communications with the Dead - Breakthrough Side 1